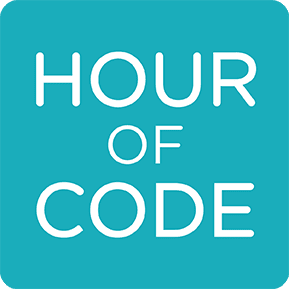 What is the Hour of Code?
The Hour of Code is an event each year (December 7 - 13) to promote the field of computer science. All things electronic require someone to program it. From basic coding resources like Scratch to learning actual computer languages in Code Academy, the hour of code is designed to give students exposure to programming robotics and computers.
Why Participate in the Hour of Code?
Ask a teacher what their ultimate goal is for their students. Most of them will say that it is to prepare their students for the future and to be successful lifelong learners. (At least something along those lines.) Computer science is a part of our world. Whether it is changing the radio station and seeing the frequency light up on the screen, or using your iPad to Facetime with family, you are utilizing the efforts of a software developer.
The demand is great as the technology realm is changing so rapidly. With the launch of the iPhone and Android devices, the need for developers exploded. What need will the next break-through device create?
According the the Bureau of Labor Statistics
, an 8% increase in jobs for computer programming will occur in the next seven year.
How to Participate in the Hour of Code
There are a ton of resources out there to get started on the Hour of Code. I'm listing just a few to span over the devices and grade levels that are in my school district (MSD of Steuben County). So check out the materials and think about how you can discuss the field of computer science with your students. They need to be aware that their video games and favorite websites didn't just magically appear there. There is someone's work behind the screen.
1. Introduce Computer Science
Let students know that computer science is a real thing. You could start with either of these two videos supplied by Code.org to give students a feel for what coding is.
2. Have a Conversation about Computer Science
Have a discussion or have kids post on a blog, Google Classroom, or Seesaw to share where coding has impacted their life. Discuss how their life would be different without it.
3. Have Students Participate
The Hour of Code does not mean the kids have to do coding for an hour straight. It means that throughout the week, the students are trying activities that expose them to the realm of computer science. So if the kids have a few minutes here and there, encourage them to participate in one of the many activities in relation to coding. Feel free to have students watch the video if you feel it will help them get acquainted with the tool.
Kodable - Kindergarten and First Grade
The Foos - Kindergarten through Second
Lightbot - First through Sixth Grade
Scratch - Third through Eighth Grade
Code Academy - Seventh through Seniors
Khan Academy - Sixth Through Seniors (Video Tutorials on Links)
4. Celebrate
Take pictures or videos of students participating in the Hour of Code. Tweet them out or post them on Instagram with the hashtag #msdsafari and #hourofcode. Free free to tag me in your images on Twitter with @mr_yoder and Instagram with @edgaged.